All Teachers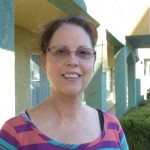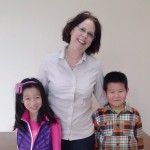 Alison Kalmus' students have won numerous National Speech, Drama, and Vocal Competitions. She teaches Speech and Drama, Science, Writing, and English. She directed "A Chrismas Carol" for Sierra Madre Theatre in 2004, was Music and Stage Director for Altadena City Arts Festival in 2011, and was Co-Producer and Director for world premiere of "Aesopera" in 2012. Apprentices from her company, Southern California Lyric Theater, have earned placement in top-tiered colleges and universities. Ms Kalmus is an educational and casting resource for Los Angeles and Orange Counties' High Schools of The Arts, Disney, Nickelodeon and The Independent Shakespeare Co. Many of her students have gone on to perform in professional stage, television and film productions.
————————————————————————————————————————————-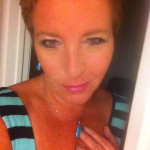 Amy Sterling Casil is an English teacher at Saddleback College, and has also written a number of books for school classrooms and libraries. She has been a professional writer since 1996.
A graduate of Scripps College and Chapman University, she has a daughter, Meredith, and lives in Laguna Woods with her husband Bruce and Jack Russell Terrier, Gambit.
————————————————————————————————————————————-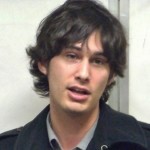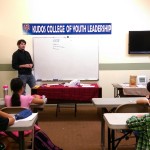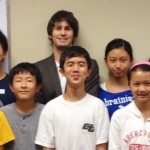 Chris Hacela has top level speech and debate experience, including a very successful career at the collegiate level as a competitor for Irvine Valley College and Cal State Fullerton. He achieved numerous awards, including Gold Impromptu Speaker at the Beijing Foreign Studies Invitational, Silver Impromptu Speaker at the CCCSFA California State Tournament, and Semi-Finalist at the British Parliamentary Debate Invitational in Shanghai, China. Mr. Hacela has judged, coached, and competed in countless forensics events and tournaments. He brings extraordinary experience to the position. Joining Kudos from Day One of the Irvine Campus in 2012, now in his 4th year with Kudos, Chris has proved himself as effective an educator as he was a competitor. He has great rapport with the kids, is an excellent motivator, and has overseen tremendous growth in his students using the survey class curriculum. In February 2013, Chris also took on the head coaching position for the Irvine public forum team. In 2014, one more responsibility was added to Chris' portfolio: Coaching the Speech Team in Temple City, in Extemp, Impromptu, and SPAR.
—————————————————————————————————————————————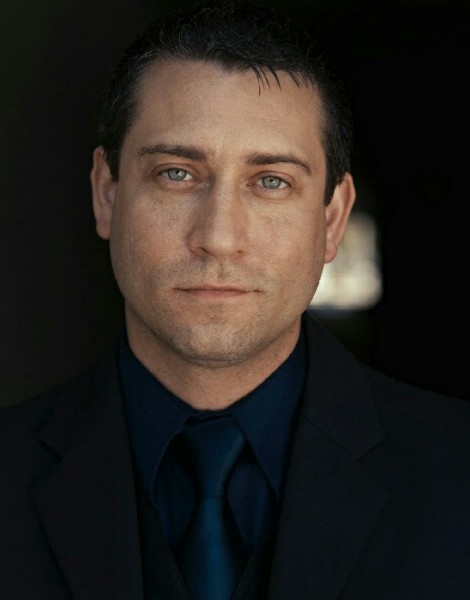 Colin Kramer has hosted hundreds of live events and workshops in the past decade, including the Nickelodeon Kids' Choice Awards V.I.P. After-Party in 2009. His academic experience includes studies in Speech and Debate, Theatre Arts, and Political Science at Oxford University, Saddleback College, as well as the University of California, Berkeley. In 2003 he was invited to join the Saddleback College Forensics Team, led by Larry Radden (which was recently chosen to represent all of California at the Interstate Oratory Competition). In 2012, Mr. Kramer won two After-School Enrichment awards for his work at a non-profit teaching agency.
—————————————————————————————————————————————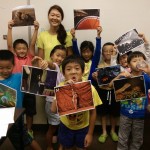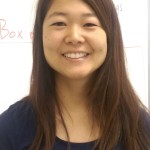 Diana Chang is a credentialed teacher with experience teaching grades 1-8, and with a passion for working with younger students. This multi-lingual educator has experience teaching all subjects, but displays particular affinity for speech and performance training, having earned rave reviews in her storytelling classes with Kudos. Her rapport with children, demonstration of creativity, skills of class management and motivation, and dedication to the craft make Ms. Chang an ideal teacher for our youngest level of leadership training. She joined Kudos at the inception of the Irvine class four years ago (2012), and in the past two years has also been involved with the development of Storytelling curriculum material.
————————————————————————————————————————————-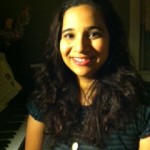 Erika Myers teaches 2nd grade at Ribet Academy College Preparatory in Los Angeles where she teaches Language Arts, Mathematics, Science and Social Studies. She just completed her 7th year teaching at Ribet Academy. Erika also taught students in the 3rd – 8th grades in a
variety of subjects including Elementary Mathematics, Science, Social Studies, Spelling, Reading, and Algebra. Proudly, Erika is a graduate of USC's Marshall School of Business where she earned a B.S. in Business Administration with an emphasis in Finance.
——————————————————————————————————————————–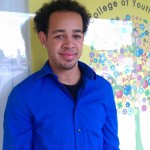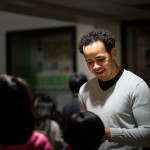 Josh Steinle is a recent graduate from Marshall University where he earned his degree in Music Theory/Composition. In his time at Marshall University he participated as a member of the Thundering Word Speech and Debate team where he often placed at the top of his round, qualifying all his events for NFA, and also becoming a Tournament Champion in poetry. He is well versed in many speech and debate events with an emphasis in Interp events such as Impromptu, Dramatic Interpretation, Duo Acting, Prose, and Poetry. During his time in college, Josh studied such subjects as voice, piano, conducting, and African drum and dance.
No stranger to being in front of an audience, in addition to making speeches at tournaments, Josh has performed as a solo singer, with choirs and ensembles, and appeared in an opera theatre production of Mozart's The Magic Flute. In the last two years in college, he taught freshmen to familiarize with campus life and course selection tactics, one hour per day, for 8 weeks, each semester.
Outgoing and a performer at heart, Josh holds the skill sets to make public speaking and performing enjoyable and educational.
———————————————————————————————————————————–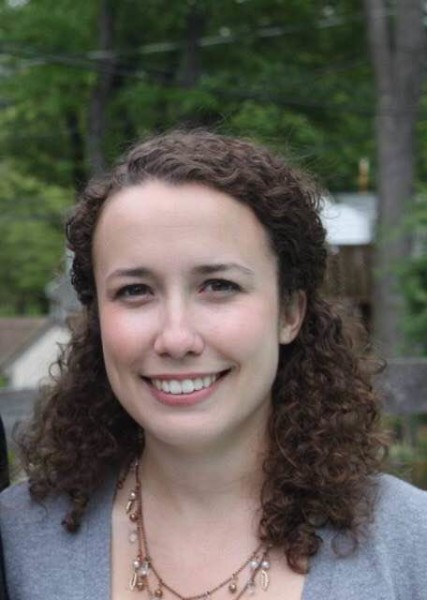 Maggie Green participated in debate all four years of high school and has experience in Public Forum and Policy debate as well as International Extemporaneous Speech and Original Oratory.
Her senior year of high school in 2008 she and her partner won the South Dakota State Debate Tournament in Public Forum.
Additionally they qualified for the National Forensics Tournament in Las Vegas, NV.
They broke through the first phase of the tournament to become one of the top 75 teams in the country.
Maggie went on to get her bachelor's degree in International Relations from Boston University.
After graduation she worked in Boston for three years before moving to California. Maggie is now a Speech Coach at Kudos.
———————————————————————————————————————————–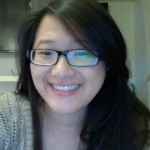 Nancy Nguyen recently graduated from UCLA with a degree in Biology and a minor in Environmental Science. She joined the Alhambra High School Speech and Debate team in her freshman year and eventually led her team as Team Captain in her senior year to rank second overall in both the Southern California Debate League and East Los Angeles District, as well as 35th overall nationally.
She has acquired remarkable success in the events that she has competed in, including Policy Debate, Parliamentary Debate, National Extemporaneous, and Impromptu. She has been a Southern California Debate League State Qualifier for 3 consecutive years (2009-2011) and was the Policy Debate SCDL State Qualifier Champion in 2011. She placed 34th overall in Impromptu and 26th overall in National Extemporaneous at the California State Tournament in 2010 and 2011, respectively.
———————————————————————————————————————————-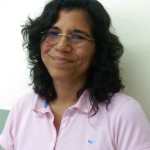 Nina Canelo has been a full time teacher for Los Angeles School District for more than ten years. She is learned and experienced in child behavior, psychology, and curricula. Warm and loving towards students, she is goal-oriented and possess great classroom management skills. She has taught at Kudos Storytelling and summer school and is loved by all students.
———————————————————————————————————————————–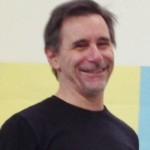 Mr. Ralph Seymour has enjoyed working in the theatre since his own school days. He has appeared on stage in New York and Los Angeles, most notably, starring in the Broadway production of Equus and the Los Angeles Drama Circle Award winning production of Creeps. He has appeared in many films, including, Rain Man, Empire of the Sun, and Let it Ride and numerous television shows over the years. Besides teaching drama at St. Rita, he coaches the St. Rita Speech and Debate Team.
———————————————————————————————————————————–
Rohit "Ro" Kumar graduated from the University of California, Berkeley with a B.A. in Political Science in 2008. He graduated with highest distinction with a 4.0 GPA, and earned a score of 172 on the LSAT (99th percentile).
Ro has worked as the Speech and Debate Coach for Olive Children Foundation's middle school team. He also taught debate to elementary school children from grades 3 to 5.
His personal speech and debate record includes:
*10th Place in the United States – N.F.L Nationals in Salt Lake City – Congressional Debate (2004)
*4th Place in California – State Championships – Congressional Debate (2004)
*1st Place League Champion – Southern California Debate League – Congressional Debate, Impromptu, Foreign Extemp, Domestic Extemp (2001-2004)
———————————————————————————————————————————–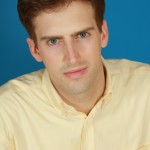 Scott Wheeler has an impressive track record of both competition and coaching success. As a competitor in high school, Scott and his partner achieved the Mississippi state championship in Policy Debate for three straight years. In addition, Scott earned numerous awards in a variety of speech events, including writing, no-prep, and interp events, and led his school's mock trial team. He also served as President Pro-Tem for the Mississippi Youth Congress. After high school, Mr. Wheeler earned his degree in Radio, Television and Film in 2003 from Northwestern University. He joined Kudos in January of 2011, taking over our competition teams and producing immediate results. He has since coached our competitors to remarkable success, dominating league debate tournaments, middle school invitationals, and even Nationals, where, in June of 2012, Mr. Wheeler guided our students to the National Championship in Public Forum Debate, and earned Kudos recognition as an Overall School of Excellence in Speech and Debate, one of only three in the country. In June of 2013, he continued to guide our competitors to the National Championship in Policy Debate, and again Kudos earned school trophies as an Overall School of Excellence in Speech and Debate (one of top three schools in the nation), and School of Excellence in Debate (one of top five schools in the nation). He took two years off to earn a Master's Degree from Pepperdine University in Mass Communications. He returned to Kudos in the summer of 2015 to take Kudos tournament teams to an even higher level. Mr. Wheeler is now Head Coach in Lincoln-Douglas, Policy, and Public Forum debates at Kudos. He is known for high expectations, a rigorous curriculum, great rapport with the students, and, most of all, winning.
———————————————————————————————————————————–
Taylor Yazel received his B. A. from University of Missouri. He led the Speech and Debate team at Hickman High School for two years, travelling with 20-30 students all over the state on overnight trips. His specialty is in Public Forum debate, but also won awards in Lincoln-Douglas debate, Impromptu, HI, and other speech events. He had the largest amount of state qualifiers in his district and was awarded with a trophy from his students at an end of the year celebration. After moving to California, he has been working for Orange Lutheran High School, working side by side with drama students who work both on and offstage to help them get the most out of their productions.