Letter to Parents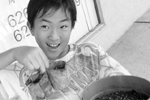 Welcome to Kudos!  Our school began with the mission of training students, from elementary to high school, in the skills required for real leadership.  The methodology we use to achieve this is competitive speech and debate.  Competition speech and debate, also called "forensics," is an academic sport.  It is also the single greatest pedagogical tool ever invented.  Nothing develops thinking, listening, writing, speaking, researching, and citizenship skills nearly as quickly, and in no other academic activity will a student accrue so vast a wealth of general knowledge on so broad a range of topics.  If you'd like to know more about how speech and debate tournaments work, please click here.
Kudos offers a number of distinct courses that complement the core forensics-based curriculum.  We provide courses such as Storytelling and Drama for younger children and two levels of introductory survey courses for both elementary and middle school.  We also offer highly rigorous instruction in both critical thinking and persuasive writing.  See course descriptions for all of our class offerings here.
All curricula culminate in our competition teams.  Kudos is still a young school.  We began competing in the fall of 2010.  Since, our students have won over 200 trophies, medals, and certificates.  We've achieved 41 1stplace awards and the middle school national championship in public forum debate, as well as earning one of only three Overall School of Excellence awards at the NJFL National Tournament in Indianapolis in June of 2012. We provide the best possible debate coaching available, in a highly supportive and competitive team environment, with access to the best resources.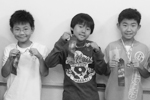 The Kudos curriculum is compartmentalized to serve the individual needs of students at all stages of development.  While many begin their speech and debate training with us, we also assist experienced students competing for their home schools.  In other words, if you want to get your young child involved in an effective performance skills program, we do that.  If you want your 4th grader to learn advanced debate techniques and compete in tournaments against other schools, we do that.  If you want your middle-schooler to compete in league tournaments and invitationals, and to travel and pose a serious threat at the national tournament, we do that, too.  If your high school senior is an excellent policy debater who keeps losing to theory arguments in out-rounds, well, you are in the right place for that, too.
We invite you to call anytime and speak with our Director about how Kudos can benefit your child.  You might also wish to read more about Kudos in our FAQ.

Laura Lin, Principle of Kudos College of Youth Leadership